On Saturday, at the Hillbrook Sustainability Day when I presented Homage to the Seed project, I'd found some great quotes to post up on the wall discussing biodiversity of edible species, the story of food and agro-biodiversity.
I was reading
Michael Pollan
a couple of days before and had to include some of his quotes .... and the one by Renner below which he quoted.
Below is a piece from Julian Cribb with a highlighted section that for me is very pertinant. I posted on Cribb
here
last year after hearing him speak at an Institute of Global Change forum in Brisbane on the Future of Food. One of the reasons I think Botanic Gardens, independant Seed Banks, Research Institutes that are Govt funded and such are so crucial is for identifying new and diverse edible/usable species. Its stands to reason that biologically diverse foodcrops are better for the environment, for our health and so on. They are also far more interesting and culturally enriching.
And so I was delighted to discover this site from the UK called
Plants for the Future
- this website is well worth a visit.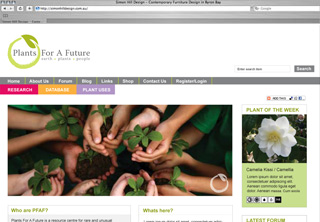 From Wikipedia, the free encyclopedia
Plants For A Future
(
PFAF
) is an online
not for profit
resource for those interested in
edible and useful plants
of
temperate regions
. The project currently has a site in the South West of
England
where many of the plants are being grown on a trial basis, and maintains a small mail order catalogue. The organization's emphasis is on perennial plants.
The website contains an online
database
of over 7000 plants that can be grown in the UK, the data is created/collated by Ken Fern, and can be either used online free of charge, or
downloaded
for a small sum.
Fern has also published a book detailing many of the plants featured in the database.
These notes below are from their website... Ive included them here to promote the idea of variety and hopefully capture the imagination.
Plant Uses / Edible
There are over 20,000 species of edible plants in the world yet fewer than 20 species now provide 90% of our food
.
However, there are hundreds of less well known edible plants from all around the world
which are both delicious and nutritious.
You can see our top rated edibles
here
The articles below highlight some of the more unusual edible plants.
Database
Top Rated plants, 154 plants we consider the best for edibility.
Edible PartEdible Uses
The wonderful thing about the sustainability day I was part of was the extraordinary showcase of local and regional edible plants... and the availability of seeds saved by local initiatives. If I'd not been so busy at my own stand I'd have taken a lot of photos to included here.
So what's available in your part of the world that sustains the biodiversity of edible plants?