Whilst visiting Abigail Doan's wonderful
blog
this morning I found two article's I wanted to post on here. Read about her at the
greenmuseum.org
. She describes herself as:
"
a writer and environmental fiber artist residing in NYC and Europe.
My eco-textile and art farming projects are a means to create sustainable
solutions and visual links to the global challenges we collectively face."
This eco-art blog I like to visit for inspiration featured artist Kevin Inkawhich some time ago and the Seed Project which I'll focus on as well.
'Kevin Inkawhich crafts the most heart palpitatingly natural mobiles. Using dried leaves, seeds, pods, branches, and delicate wire armatures, his floating sculptural pieces make any room or exhibition space flutter with organicism. They are lyrical, resourceful, and an homage of sorts to the fact that the best design is always, in essence, nature-based.'
Kevin Inkawhich


this article below on Abigail Doan is well worth a read:
Returning to and from THE LAND: Connectivity and Crafting Residency
ABIGAIL DOAN



THE LAND/an art site is located eighty miles southeast of Albuquerque in the

pinon and juniper-scented foothills of New Mexico's Manzano Mountains. The pueblo mission ruins of Salinas National Monument are situated nearby, as is the train-whistle-punctuated town of Mountainair, the former pinto-bean capital of the world and the now faded hub of the Santa Fe Railway. As THE LAND's September 2006 artist-in-residence, I prepared myself for an immersive week of surveying and studying the unique characteristics of this remote art and conservation site.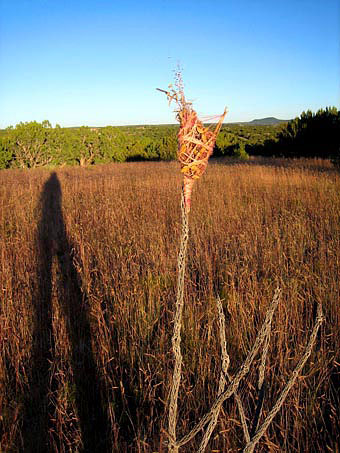 all images form the Land Views site.
Abigail Doan is an environmental artist and activist. Her work has been exhibited in conjunction with the United Nation's Environment Programme, Art into Action/The Natural World Museum, and in group exhibits worldwide. Abigail is a contributing editor to Supernaturale.com, where she writes about art farming, craft, and the use of fiber in the landscape. She recently exhibited her 'Crocheted Snow' series at Lafayette College's Williams Center Art Gallery, in an exhibit called, "On Ice". Her work appears on Greenmuseum.org, in periodicals such as Knit Knit, and in the recently published book, Craftivity. Her 'Tumbleweeds' will be exhibited this April in the show, "Stretched Threads", at The Atlantic Center for The Arts in Central Florida. For more information on Abigail's projects, go toabigaildoan.blogspot.com.
NOW... the next thing I wanted to share found at Abigail's blog was this:
http://abigaildoan.blogspot.com/2007/04/seed-project.html
watch this one minute video!
Matthew Gehring
Monica Hernadez
Joan Fitsimmons
Gina Fuentes Walker - apple seeds
The Seed project began in 2006 by David Cohen, an installation artist.
The Seed project engages people all over the world plant to plant seeds creatively, creating individual art projects. The growth is then documented digitally. The digital images are compiled and placed together to form a "Virtual Field" that can be seen online. The components of the actual field exist in many separate places at once; sort of a diaspora of plants.
The plants can be grown freely in any configuration the planter chooses and the images can express the individuality of the grower as well. Planters are also free to choose to grow whatever seeds they choose. The three criteria are that the plants must be:
1 non-spreading,
2 non-invasive and
3 grown legally.
When a person participates by planting the seeds they become connected to a collective group of artists and activists. There are opportunities to meet potential collaborators and work creatively on other projects separate from the Seed Project. The seed becomes symbolic of these new collectives.
Anyone can join in this seed project!