Last year I was actively involved in the first International Fascination of Plants Day on May 18th. I've written extensively at this blog about the events and also at the
website page
where I outlined the month-long residency I undertook which culminated in the Celebration Day at the Institute of Molecular Bioscience.
Images from the Institute for Molecular Bioscience residency
It was an incredible experience working at UQ's IMB under the tutelage of
Dr Joshua Mylne
and staff. Joshua Mylne has since relocated to UWA in Perth where he is
Associate Professor
Plant Energy Biology, ARC Centre of Excellence
. Read more at his personal website
here
.
This year all plans I had entertained for further such collaborations are on hold due to pragmatic concerns primarily around selling our home and relocating within Brisbane... with a new studio to launch by August. Read
studio blog
on that story.
The 18th of May celebration this year falls on Saturday and as I wont be involved this year I will post this story in tribute.
Its an introduction to a national venture the
Australian Seedbank Partnership
which brings together 14 organisations in all and is well worth investigating to learn more about what they do.
Below I have quoted text straight from the website Home and About pages.
The Australian Seed Bank Partnership's mission is to safeguard Australia's plant populations and communities by developing a national network of conservation seed banks.
Collecting and storing seed in seed banks is one of the most powerful ways to combat the global decline of plant biodiversity. It offers an insurance policy against the further extinction of plant species.
Our initiatives focus on collecting and storing seed to conserve biodiversity and building and sharing knowledge to support restoration and conservation activities across Australia.
The Partnership unites the expertise of fourteen institutions, including universities, herbaria, botanic gardens, non-government organisations and state environmental agencies.
Revealing the secrets of seeds
Science can unlock the mysteries of seeds, helping us to restore our landscapes and conserve our rich flora.
Images reproduced with permission from Australian Seeds: A Guide to their Collection, identification and Biology (Editors: Luke Sweedman and David Merritt). Copyright © 2006 Botanic Gardens and Parks Authority of Western Australia. Published by CSIRO PUBLISHING, Collingwood, Victoria Australia - http://www.publish.csiro.au/pid/5281.htm
ABOUT:
The whole world relies on
biological diversity
for fresh air and water, food security, shelter, medicines and a clean and healthy environment capable of adapting to climate change and other serious threats.
However, in Australia more than 1,700 species and ecological communities are known to be threatened and at risk of extinction.
The Australian Seed Bank Partnership, governed by The Council of Heads of Australian Botanic Gardens Inc., is a strategic response to a host of threats to our biodiversity.
We are an alliance of
14 organisations
, bringing together expertise from Australia's leading botanic gardens, state environment agencies, academic institutions and non-government organisations.
We have created, for the first time, a formal network of nine seed banks and five other flora-focused organisations bridging the gap between policy makers, researchers, seed collectors and on-ground conservation and restoration activities.
Our vision is for a future where Australia's native plant diversity is valued, understood and conserved for the benefit of all.
Our mission is a national effort to conserve Australia's native plant diversity through collaborative and sustainable seed collecting, banking, research and knowledge sharing.
Our work focuses on:
securing Australian flora in ex situ seed collections;
enhancing our understanding of seed biology through research
sharing our knowledge to improve conservation and restoration outcomes; and
training and building capacity in Australia for seed science and banking.
Building ex situ seed collections provides a resource for future use and an insurance policy for Australia's native plants and forests against threats such as myrtle rust and cinnamon fungus.
Our members have already secured a third of Australia's flora in conservation seed banks, including 25% of our threatened plants.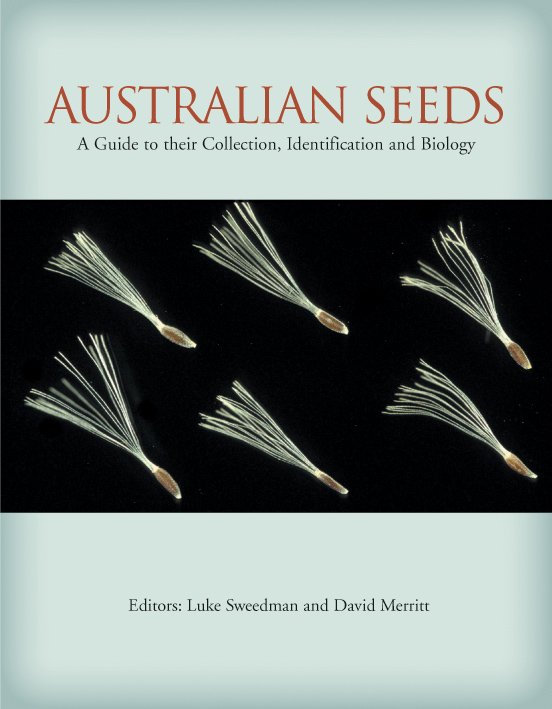 Read more direct from this book at this page and buy on Ebooks.
2 pages from the book are featured here:
I spent a lot of time in 2010 pouring over this book and getting inspiration for various art works from the brilliant introduction and images of seed collections photographed for the book. I noticed it is now available as an E-book as well as hardcopy title.
I hope to be getting back to routine sometime in later July or August when the new studio is set up and running.
Wishing all well,
Sophie