Up the road from where I live
I live at Brisbane... Toowomba - due west- is the centre of the Darling Downs region
I mean up the highway actually!
to go see this kind of view.
Quite a lot of our weekly
and into our city stores.
One day some people from those farms came to the city.
They had a problem on their hands and wondered if anyone
was listening ... especially us in the city!
they felt that as they were growing our food
we might want to hear what was happening
to the land where they farmed.
protest meetings
blasting at Acland Mine
New Acland Mine flooded in January
Felton on the Darling Downs.
There are some
wonderful people I got to know last year
whilst at the Botanic Gardens who live up in the Darling Downs in areas dealing with harsh issues re land use. In their front and back yards, in their towns and surrounding areas the land that has been long been hailed as "the food bowl of Australia" is being signed over to mining interests.
And the longer we stall on viable alternatives to Coal and Gas the longer this issue over Energy will continue.
One friend lives nearby the community of Acland
, a township abandoned for a coal mine. The Local Towoomba newspaper The Chronicle printed this brief tribute below on Anzac Day this year: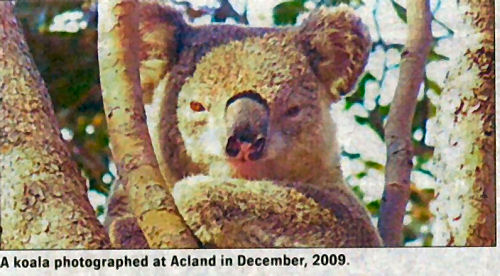 Record turnout for Acland service
THE Darling Downs township of Acland, now abandoned for a coal mine with the exception of one loyal resident who has refused to sell, had a record turnout for its annual Anzac Day commemoration today.
About 300 former residents and friends showed up for the ceremony at the local Anzac monument and park.
"The Queensland Greens were proud to participate again in this moving country ceremony," Queensland Greens spokesperson Libby Connors said after the service.
"Everyone's emotions were heightened by an awareness that it could be the last service in the township as the park and memorial are threatened with demolition if New Hope Coal's stage 3 mine expansion plans are approved."
Dr Connors said she believed support for the service had increased as more residents on the Darling Downs became aware of the threat that coal and coal seam gas posed to rural communities even those on prime agricultural lands.
"All the talk over smoko afterwards revolved around the issue of strategic cropping lands, their lack of legislative protection and the haste with which new coal mines were approved.
"With mines planned to the north, south, east and west of Acland, all the sad pride in past defence of country left many feeling anxious about protection of their homelands into the future."
So ... this afternoon ... when my friend wrote from her land near Acland I was saddened ... but more than that ... troubled to read the implications of her network's letter.
Here is the letter that came with her email:
"Fellow Queenslanders, we desperately need your help.
Please circulate this to everyone you know – this has come from prominent Environmental Activists who know how to find where the permits have been granted.
You should be aware – and deeply concerned - that these stories are NOT being reported in the Queensland media – and Regional Councils like Toowoomba are not even telling their residents.
Mining of this magnitude will destroy our great state of Queensland as we know it – all to save two broken and busted Governments.
In 20 years we will be a slag heap, our waters will be polluted, our Artesian Basin sucked dry – and we will have nothing left to feed our people.
Please LOCK THE GATE and prepare to stand up and fight – our farmland and our way of life is worth it.
LOCK THE GATE campaign
Virtually the entire Darling
Downs
is now covered by coal permits of one form or another.
The South Burnett will be next, as well as the
Brisbane
Valley
.
Ambre Energy

has a mining lease application over 2000 ha of

Felton

Valley, as well as around 70,000 ha under exploration permits all the way from Toowoomba to Warwick.
Newmont

has a mineral development license over 13000 ha south of

Felton.
Acland

(

New Hope

mine) is currently in Stage One which covers 2,2000 ha. By Stage Three – with the Environmental Impact Study now awaiting rubber-stamp approval – it will include an additional 5,400 ha, giving the mine a total area of 7,400 ha.

New Hope Coal owns all the farmland almost to Oakey showground, and east out to Goombungee.
Other mining leases in the

East Acland

area amount to an area around 40 sq km.
·
Haystack Plain
: 13,000 ha of iconic Darling Downs farmland.

Tarong Energy

– which is wholly owned by the Queensland Government – owns the Mineral Development Licence for the coal deposit under the Haystack Plain.
Tarong Energy representatives have stated that they have more than enough coal to service the Tarong Power Station for its entire operating life (25years+) without using the Haystack coal deposit.
They are, however, now reviewing the asset with the intention to sell the Mineral Development Licence to another company. The Haystack coal deposit is export quality coal and is likely to be exported.'
There are exploration leases or applications for leases over the

entire towns

of

Warwick

, Highfields, Meringandan, Gowrie, Kingsthorpe, Pittsworth, Oakey, Gowrie Mountain, Hodgson Vale and Cabarlah.
There are also applications for bauxite mines near

Crows Nest

and nearby

Geham

.
There are bauxite exploration permits for 7,000sq kms of Qld, focused around

Kingaroy

and

Pittsworth

in particular.
There is a permit granted for a coal mine in the

Brisbane Valley

only 5 kms upstream from Somerset Dam –Brisbane's major water catchment area.
The Qld State Government, the Toowoomba Regional Shire Council and a local developer are currently forcing throughthe biggest noxious and dangerous toxic industrial estate ever seen in regional Australia on the famous old grain and thoroughbred farm Wellcamp Downs – only ten minutes from the centre of the city.
At 600ha, it is double the size of the heavy industrial area for the entire city of Brisbane. The site – a famous grain farm – is an old koala habitat crossed by a creek that flows into the Murray-Darling. When the south-westerly winds blow in winter, noxious fumes will settle on the roofs of Toowoomba – and straight into rainwater tanks.
Despite the fact that Toowoomba is a Garden City with an economy based on farming, tourism, education and retirees, there have been no environmental studies on the site or buffering to protect nearby farms. One of Australia's leading Urban Planners has described the proposal as 'simply unbelievable - a blight on the landscape".
There are now exploration leases or applications for leases over almost every major grain farm, thoroughbred farm and beef farm on the Darling Downs."
I know many reading this will think of a similar situation somewhere close to your home... you may be pondering as I do... thinking its not one fight, one issue... but many.
Im posting this story here at Homage to the Seed as a reminder of the habitat loss that that image of the Koala symbolises. Loss of fauna and flora... loss of intact habitats as well as farming lands. Threats to water supplies and so much more.
Of course we need energy ... but eco-solutions will not be found if we allow things to continue as usual. Pressure on Govts leads to different goals and undertakings... no pressure... no change ... no change... well you know the rest.
If you live in this region, or wish to help ... please reblog, retweet, add to facebook or email this to a friend today!!!
Or perhaps you could share your story with us!