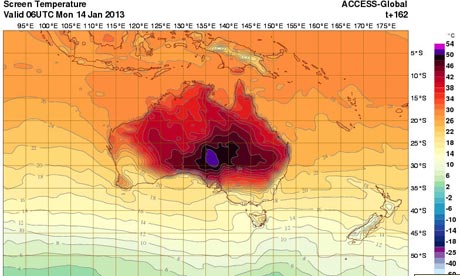 Australian Bureau of Metereology temperature map - with a new colour for 52-54C.
Photograph: BOM.
Click the image to see a larger version
IN the news this week in Australia are stories of fires currently burning in most states of Australia. A Sydney Morning Herald story I read in a cafe this morning was also reported on the Guardian Environment blog... so I am sharing the images and excerpts of that story here. Click to read the full
Guardian blog
article.
From the Guardian:
Global warming is turning the volume of extreme weather up,
Spinal-Tap-style
, to 11. The
temperature forecast
for next Monday by Australia's Bureau of Meteorology is so unprecedented - over 52C - that it has had to add a new colour to the top of its scale, a suitably
incandescent purple
.
Australia's highest recorded temperature is 50.7C, set in January 1960 in South Australia. The record for the hottest average day across the nation was set on Monday, at 40.3C, exceeding a 40-year-old record. "What makes this event quite exceptional is how widespread and intense it's been," said Aaron Coutts-Smith, the weather bureau's climate services manager. "We have been breaking records across all states and territories in Australia over the course of the event so far." Wildfires are raging across New South Wales and Tasmania.
Australia's prime minister Julia Gillard said: "Whilst you would not put any one event down to climate change, weather doesn't work like that, we do know over time that as a result of climate change we are going to see more extreme weather events and conditions."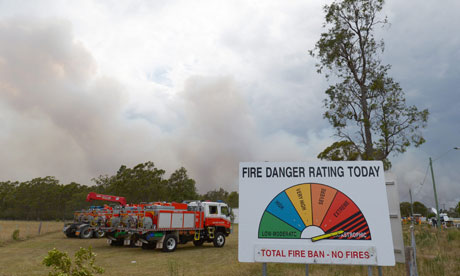 Listening to the National Radio the past few days has meant hearing harrowing stories but also some very uplighting ones too.
This image below taken at the waterside in Tasmania reminds of a story of an oyster farmer who was interviewed yesterday. Someone managed to put on facebook a call out for help at their Oyster Nursery... things looked grim indeed. Soon enough anyone in the area with a refridgeration vehicle turned up and all the stock was taken to safe keeping and, sure enough, the place was later burnt out completely.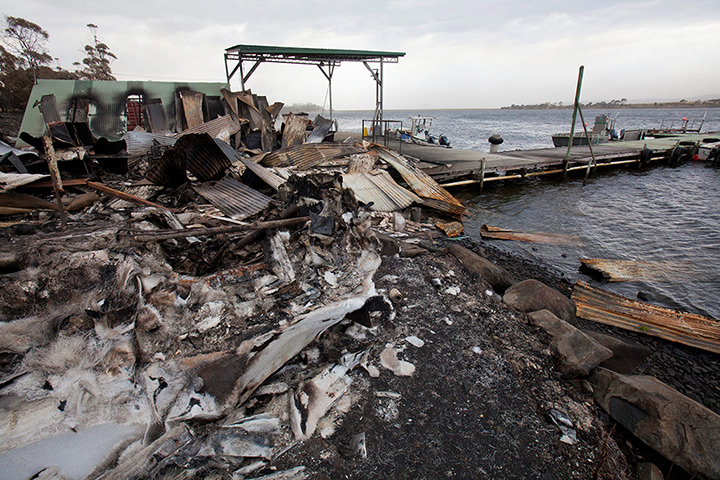 Photograph: Rob Blakers/EPA
Communities are increasingly seeing the need to pull together. Old established communities always saw that need... whereas often now people relocate to regions from urban environments with no prior knowledge of living in the bush. Tree-changers and sea-changers come from places where often no-one knows their neighbours. Life in the Australian Bush requires preparedness for all kinds of extreme weather conditions and circumstances.
These kinds of events are highlighting the need for a great reckoning with how best to live with changing weather conditions in the uncertain future we are now countering.
On the issue of seeds. especially in the wild habitat regions which are under threat, one thing that has been keenly observed for some years now its the increasing problem of seed viability. Too much heat, prolonged heat waves can have a dire impact on many species... and it is only when seeds are collected and tested that the real story is revealed. Plants may appear to be enduring the heat yet their seed can be largely, or completely unviable... that is... unavailable for reproduction.
In 2010 when working in the Mt Coot-tha Seed Lab (a joint project with the KEW Millennium Seedbank) learning from seed technologist Jason Halford he was already reporting loss of seed viability from his field trips across Queensland during over previous few years. Long years of drought had impacted significantly and the MSB partnerships had dramatically scaled up the monitoring of climatic impacts on seed viability in 2000 with the opening of the award-winning architect designed new
Millennium Seedbank
at
Wakehurst Place
in West Sussex.
Fire destroys and then there is renewal.
What concerns scientists and the like in this country are the changing conditions occurring around this age old phenomenon. To look at the map of Australia is to see a very large continent. The population in 2012 stood at
22,866,048
Its easy to do the maths and think it a massively underpopulated country.
However, when I saw the map of Australia yesterday, and fires burning across the continent, I was reminded of tough facts we've been hearing about for some years... heat begetting more heat and creating conditions that tip easily into extreme fire danger ... one can only think of this continent as being extremely vulnerable and NOT quite the paradise our brochures tempt us to believe for the most part.